Mile-12 market is known as the food headquarters in Lagos; where food is cheap, plenty, yet at best quality. Trailer loads of food, from various regions of the country, course their way into the market's narrow entrance, thus constantly creating the traffic gridlock the axis is known for. After navigating through the mire and wastes from fruits and vegetable which have now formed a new layer of the market's floor, we met Tambari Tarai, a middle aged tomato farmer.
Mallam Tarai, who brings his tomatoes in a trailer load from Zaria to Lagos, says that tomatoes are very expensive at this time of the year. Asking him the reason for this, he says the rainfall this year has been erratic.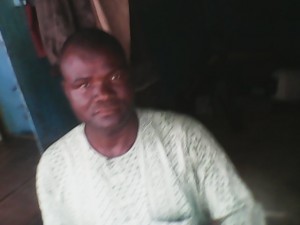 "Since this year, the rain falling, falling, falling," he says in colloquial English.
"When rain fall like this, it spoils tomatoes and, because of that, a lot of tomatoes are wasted. Tomatoes does not like too much water."
According to him, the farmers are not expecting rain so soon, and so have not prepared for the downpour.
Agricultural experts have observed that in as much as tomatoes need a lot of water to grow, too much of it has negative effects on the product.
This, according to them, results in huge postharvest losses, so the few quantity that can be transported is highly priced.
He transports his tomatoes in lorry loads through a day's journey to Lagos. Explaining his routine, he says a trailer with 10 tyres carries 350 baskets of tomatoes, while that with 12 tyres carries 370 baskets of tomatoes.
"I pay N250,000 to carry 350 baskets, and sometimes N270,000-N300,000 (around USD 1500-1600) to carry 370 baskets," he says in his Hausa-accentuated English.
Mallam Tarai is not the only one in this situation. Abubarkar, a 29-year-old tomatoe seller, shares his experience. "I bring my tomato from Katsina. This year too much rain. that is why tomato is costly," he laments.
On arrival at Mile 12, the price of a basket of tomatoes goes for  between N8,000 and N13,000, depending on the quality and freshness of the tomatoes. Baskets with lots of rotten or overly soft tomatoes deteriorate faster and so cost less. The price reflects on all markets in Lagos as retailers come from Oshodi, Agegfe, Ikorodu, Mile 2, Ajegunle and other markets to buy from Mile 12.
Defying predictions?
In March 2014, the Nigeria Metrological Agency (NIMET) released the yearly Seasonal Rainfall Pattern (SRP), which usually informs on the supposedly onset and end of rainfall, amount of rainfall and the latitude and longitude of rainfall in the six geopolitical regions of the country.
Tarai's farm is in Zaria, Kaduna, North West Nigeria. Going by NIMET predictions, rain is to start around February 20 in the southernmost part of the country to around June 21 in the northernmost parts.
The prediction, which indicates that rain is to start in Zaria on the 17th of May, is a departure from Mallam Tarai's experience. Mr. G.M. Eya, NIMET's contact person for Katsina, confirms that rain started in January in the state. Speaking exclusively with him, he says though climate change contributes to the reason for the deviation, but there are certain unusual rainfall that happens occasionally. He was quick to bare his mind that such rain is not voluminous enough to destroy tomatoes since most of the farmers in this region use irrigation farming.
It should also be noted that NIMET's forecast is based on the strong tele-connection between El Nino/Southern Oscillations (ENSO), Sea Surface Temperature (SST) anomalies and rain-bearing weather systems over Nigeria. Although the Agency has got some predictions right in the past, what is being experienced in the actual farming is a departure from this prediction.
Climate scientists all over the world have identified that one of the sectors of human existence that will be affected by changing weather patterns is agriculture and, consequently, food security. Experts have also linked food insecurity to health problems such as malnutrition and mortalities.
Impact on food prices
Tomatoes, which is often debated whether it is fruit or vegetable, is a delicacy that enriches the food appearances, tastes and also contain nourishing micronutrients such as potassium and vitamins. The micronutrients of public health importance include: Vitamin A, Iron, Folic Acid Iodine, and Zinc, which are contained in most of these foods.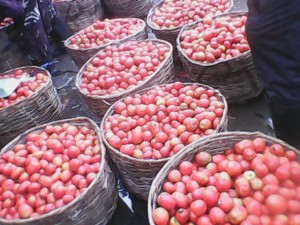 Micronutrients are vitamins and minerals most of which are not made in the body, or only in insufficient amounts, which are required in small quantities to ensure normal metabolism, growth and physical well‐being. Tomatoes are medically proven to reduce cancers especially prostate cancer. Its rich lycopene content makes it for good anti-ageing. They also contain phytochemicals which have antioxidants characteristics. Antioxidants neutralise free radicals which damage body cells. For instance, pepper are the richest source of vitamins A and C, contain lycopene known to reduce cancer, beta carotene which helps protect against certain cancers, vitamin B6 which is good for improving brain function.
Alhaja Yinusa, who sells baskets of pepper and tomatoes around the market, says once tomato price goes up, it affects the prices of other food such as red pepper, green pepper an onions. At most markets, during this report, tomato is almost unaffordable. A very meagre pieces of pale and sickly looking tomatoes are sold for N50 as against red, juicy balls of eight or 10. Lots of women during this period use alternatives such as tomatoes pastes and powdered tomatoes to give the tomato feel. But how much can the nutritional value be preserved, unlike fresh tomatoes? This has also affected the price and quantity of food at eateries and food hangouts. The high prices also affects prices of food per plate at restaurants, eateries and other hangouts.
Impact on health
Nigeria is one of the 36 countries in the world that account for 90 per cent of the world burden of malnutrition. Demographers deduce in the 2013 National Demographic Health Survey (NDHS), that  wasting, stunting and underweight in children are at the highest in the North East (Taraba, Borno, Bauchi, Adamawa, Gombe, Yobe) and North Western (Kaduna, Kebbi, Zamfara, Sokoto, Kano, Jigawa, Katsina) parts of the country. While it is the least in South East, South South and South West.
Dr. Chris. Isokpunwu, Head of Nutrition, Federal Ministry of Health, says this indices is directly linked to poverty. He demonstrated that the regions where there is high poverty head count, there is also a high level of stunting. It can be observed that regions where most of these foods are brought in from such as Kaduna, Jos, Katsina, have their own people suffering the most from malnutrition.
According to a recent World Bank Report, though oil rich, Nigeria is listed as one of the world's five poorest countries; implying that availability of money determines healthy nutrition such as a balanced diet and thus good health.
According to him, malnutrition and nutrition related diseases continue to be problems of public health importance in Nigeria as it slows economic growth and perpetuates poverty through direct losses in productivity from poor physical status; indirect losses from poor cognitive function and deficits in schooling; and losses owing to increased health care costs.
Furthermore, the prevalence of the iron deficiency anaemia is 48 per cent among pregnant women, 34 per cent among under five children, and 24 per cent among mothers. Iron deficiency is known to contribute to low birth weight in children, thus increasing new-born and child mortality.
Iodine deficiency causes Iodine deficiency Disorders (IDD), 13 per cent among under-five children, 10.5 per cent pregnant women, 13 per cent among nursing mothers."
Any interventions?
Although the country recorded some progress when, in 2013, the Food and Agriculture Organisation (FAO) rated Nigeria as one of the countries to have reduced the number of hungry people by half thus meeting the Millennium Development Goal (MDG) 1, nevertheless, the report on State of the Food Insecurity in the World 2012 states that there are 852 million hungry people, majority of who live in developing country especially Africa.
NIMET's Mr Eya says farmers are sensitised each year on what to expect so as to prevent losses in crop yield. "We give the information to the farmers through government agencies like the Agriculture Ministry. I remember I spoke at Radio Katsina and other media organisations, just to sensitise our farmers."
Mallam Tarai, who is semi-literate, says he knows nothing about the NIMET prediction, thus he is perplexed at the change in rainfall pattern.
By Abiose Adelaja Adams