Nigeria has the second largest oil reserve in Africa and is the 12th largest producer of oil, Worldwide. About two million barrels of oil was extracted from the Niger Delta daily as far back as the 1970s. It was estimated that around 38 million barrels of crude oil still resides under the water.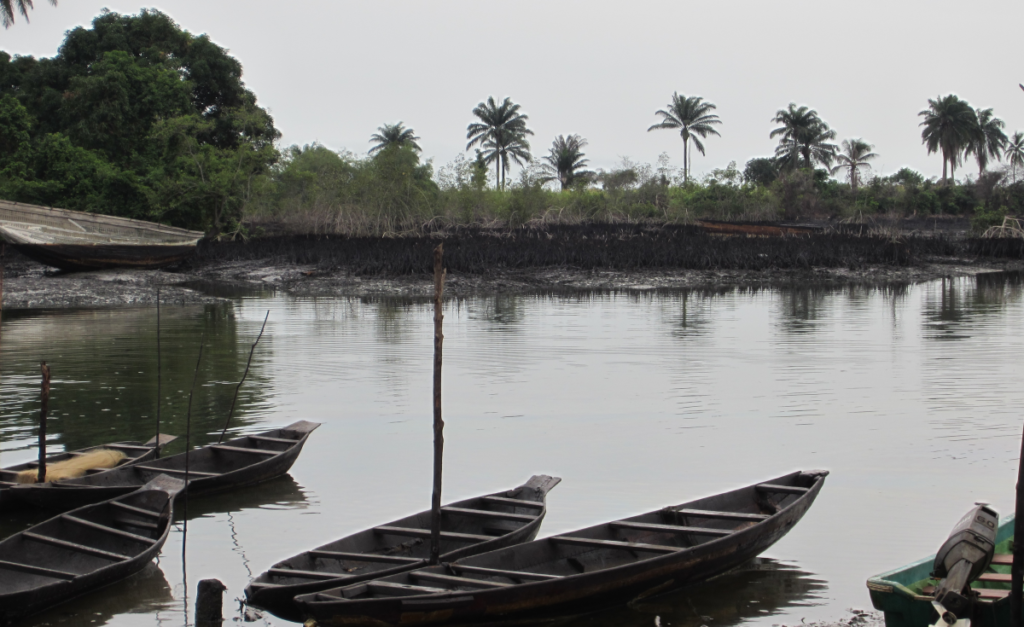 The Nigerian government relies heavily on oil, that an estimated 90 per cent of its gross earnings is gotten from oil production. Oil and gas make up 75 five per cent of Nigeria's foreign exchange revenue.
Nigeria gained about $6.9 billion in oil revenue in 2016. The history of oil exploration in Nigeria dates as far back as 1908, the first two companies had been unsuccessful. Then came Shell BP in 1923, they started exploring for oil in 1937 and, in 1956, Shell BP had found a commercially available amount of crude oil in Oloibiri. At first it was all happiness and cheer but soon the people of the Niger Delta will come to realise that this blessing has come along with a curse.
The region has some of the biggest oil fields in the world, a land flowing with "black gold", yet a place ravaged by poverty, hunger, and a myriad of environmental problems. A pollution that has built up slowly but steadily for over 50 years. A report had said that the European Union experienced 10 incidences of oil spillage in 40 years, Nigerian had seen 9,343 cases within just 10 years. The huge environmental degradation from gas flaring, dredging, oil spillage and the reclamation of land due to oil and gas extraction costs about $7.58 million every year.
It is estimated that 1.89 million barrels of oil was spilled between 1976 and 1999 and 2.4 million barrels spilled in 4,835 incidents. A report by the United Nations Development Programme has said that a total of 6,817 oil spills had occurred from 1976 to 2001 and from 2.4 million, it moved to 3,000,000 barrels of oil and about 70 per cent was never recovered.
The NNPC says the quantity of oil jettisoned into the environment yearly stands at 2,300 cubic metres with an average of 300 spills yearly. On the ground in the Niger Delta, a documentary showed a careless leakage from petroleum pipelines, thereby affecting the environment negatively. Plants cannot thrive and the physical environment is seen to be extremely black and filled with oil.
A recent report says that 40 million litres of crude oil is spilled annually, and yet no one is held accountable. And between 1976 to 2014, there has been 12,000 oil spill incidences. The number keeps going up and livelihood takes a downward trend.
The Niger Delta is a region with rich mangroves and a lot of water. The people were mostly fishermen before oil was discovered. A fisherman from Ogoni had said that theirs used to be a region of rich fish waterways, and life used to be simple and enjoyable, but now, most of them suffered both mental and economic challenges. Most people from the region have said that they cannot eat fishes that were washed ashore, their water is black and filled with oil, and they cannot even drink water from their borehole, because it smells like petrol. People are forced to drink contaminated water from wells.
The people of the Niger Delta have been impoverished by the pollution, corruption, and insecurities, all tied to oil exploration. Life expectancy in Nigeria is 51.2 but reduced to 40 in the case of the people of this region. The villages there lack basic social amenities, have poor sanitation, lack proper healthcare and the cities are overflowing with slums. Many have said that the excess money that is gotten from the black gold of the region is what keeps the people extremely poor. It provides the corrupt politicians and civil servants to scramble over and allow for neglect of the affairs of the state and their duty to the people.
Multinational companies are in the centre of the problem of the Niger Delta. Fifty years of Shell doing "business" with all the governments in power, they have been actively part of the process and system that impoverishes rather than improves the Nigerian economy. The actors of the oil theft system are big players of an international tax haven that helps Nigerian elites make billions of Naira disappear without a single trace. Some reports say the United Kingdom and the United States of America are at the heart of that system. One that makes sure the people of the Niger Delta stay lacking.
The spills in the Niger Delta contaminate the surface and ground water, air, contaminates crops with hydrocarbons such as polycyclic aromatic hydrocarbon and benxo (a) pyrene, and a naturally occurring radioactive material. There are always traces of metals in some food crops. Oil spillage leads to more than 58 per cent reduction in many household food security, a 35 per cent reduction in ascorbic acid content in vegetables, and a 40 per cent crude protein cassava content. Studies indicate that contact with crude oil could be hemotoxic and hepatotoxic and could lead to cancer and infertility. There is also a high chance of childhood malnutrition.
Disease prevalence in the region are an 87 per cent malaria in adults, 44 per cent in children, 24 per cent typhoid prevalence in adults and 13.5 in children, diarrheal disease 11 per cent in adults, 30 per cent in children with cholera having high prevalence rate too. Most of which are caused by contaminated water consumption. The people of the Niger Delta cannot engage in sustainable farming, their fishing nets continually destroyed by crude oil. The children cannot get a proper education and women suffer from high infertility. Everyone in the region is not spared and the major polluters and those in power only want what comes to them.
Daily, the people of the Niger Delta must live with a truth, one in which their most prized possession had brought about a deep economic and social divide. One of beauty and ugliness, riches and rags, mansions, and slums all in one region. A government, politicians, civil servants, traditional rulers, and community elders enriching themselves at the expense of many. A set feeding off the other.
By Halima Imam (@sadee_eemam)