A new batch of 60 children from the Niger Delta region in Nigeria has been awarded the special secondary school scholarship of the Shell Petroleum Development Company (SPDC) Joint Venture. Tagged "Cradle to Career", the scholarships cover tuition and all other bills for six years in four of the topmost private secondary schools in Port Harcourt, River State.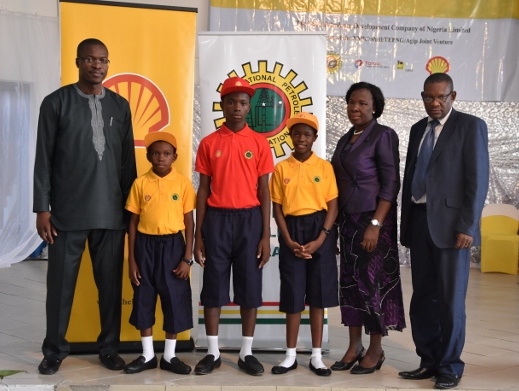 Brookstone Secondary School, Jephthah Comprehensive College, Archdeacon Brown Educational Centre (ABEC) and Bloombreed High School in Port Harcourt receive 60 beneficiaries each year from difficult-to-reach parts of the Niger Delta on full scholarship for their secondary education, after a two-week orientation programme with introductory courses in academics, character and psychology.
The 60 students are the seventh set of beneficiaries and they bring the total number of beneficiaries since inception of the Cradle to Career programme to 410.
Managing Director of SPDC and Chairman, Shell Companies in Nigeria, Osagie Okunbor, said, "This year, the first set of beneficiaries completed their secondary education and the report we have is that about all of them recorded excellent performance in the school certificate and unified tertiary matriculation examinations. It means the aims of the programme are being achieved."
Represented by the General Manager External Relations at the award ceremony in Port Harcourt on Friday, the MD said SPDC and its joint venture partners have sustained the scholarship initiative despite the current economic challenges because they see education as a right for every child and not a privilege.
Dr Patricia Ogbonnaya, Mrs Elizabeth Alagoa and Dr Moses Onoriode Bragiwa, representatives of the Rivers, Bayelsa and Delta states Commissioners for Education respectively, extolled the Cradle to Career scholarship scheme for complementing their governments' investments in education. They praised the transparent selection process and the human capital development benefits of the programme to the region.
"SPDC has a passion for investing in people and we are happy to report that students in the programme have over the years been on the top of their classes in their respective schools. We thank Shell and their joint venture partners for helping to ameliorate the problems of the Niger Delta," said Dame Christie Toby, the proprietress of one of the implementing schools.
The SPDC JV launched the Cradle to Career initiative in 2010 to provide for bright indigent students and improve on the positive results of its other portfolio of scholarship schemes for local and international undergraduate and postgraduate studies.
Shell Companies in Nigeria have a history of supporting education through scholarships and other initiatives. In 2015, a total of $10.1 million was invested in scholarships by the SPDC Joint Venture and Shell Nigeria Exploration and Production Company (SNEPCo.) Grants were awarded to 930 secondary school students and 638 university undergraduates in 2015, with a total of 10,401 (secondary) and 3,532 (university) grants given over the last five years.