The UN said no fewer than 427,000 people have been affected by heavy flooding across Somalia since April, 2018.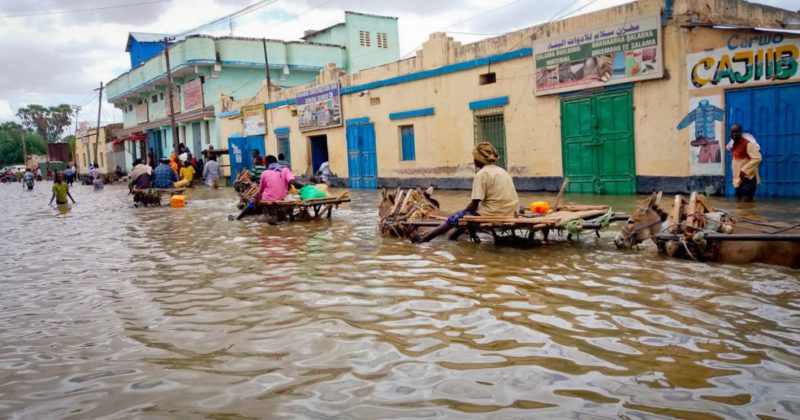 The UN Office for Coordination of Humanitarian Affairs (OCHA) said nearly 175,000 out of the 427,000 have been displaced as a result of the flash and river flooding in Hirshabelle, South West and Jubaland states as well as Banadir region.
The UN agency said in its latest flooding update released on Thursday (April 26, 2018) night that rainfall has been above average over broad areas of Somalia, adding that short-term forecasts suggest heavy rainfall is likely to continue over the coming week both inside Somalia and within the Ethiopian highlands.
"Other central and northern parts of the country are expected to receive moderate to high rains in the coming week with regions of Puntland being the exception," said OCHA.
The UN agency said the projection for heavy rains coupled with the high river levels mean that riverine flooding will continue in the Juba and Shabelle river basins in the coming week.
In Jubaland, the number of displaced people spiked from an estimated 28,200 on April 22 to 42,300 people who are part of the 165,000 people affected in the state with the worst affected areas of Bu'aale, Garbahaarey, Ceel Waaq, Luuq, Baardheere and Saakow.
The Horn of Africa nation's local authorities have called on the federal government and humanitarian agencies to help those who are in very critical conditions.
In Baidoa town alone, about 174,000 people have been affected by flooding, said the UN, adding that over half of their existing shelters cannot withstand heavy rains, and many have already been washed away.
Many community latrines have been destroyed or filled with flood water. Forecasts predict more heavy rains in the coming week.
"In Hiraan region, the Shabelle River has already burst its banks, displacing over 122,000 people in Belet Weyne town and nearby riverine villages," said the UN.
The UN agency said some 54,000 people in makeshift shelters in the Mogadishu area have been affected in settlements for the displaced.
More flooded communities are reported in the Galgadud, Gedo and Middle Shabelle regions.