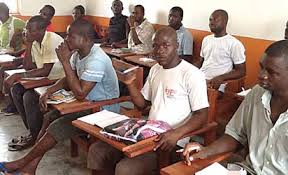 No fewer than 30 inmates of Agodi prison in Ibadan have benefitted from the vocational training programmes organised by the Oyo State Command of the Nigeria Prison Service.
The spokesman of the command, Mr Olanrewaju Anjorin, said this on Tuesday in Ibadan while speaking with the News Agency of Nigeria (NAN).
He said the inmates, who were trained in such vocations as computer engineering and repair of cell phones, graduated on Thursday.
Anjorin said the command often provided working tools to graduates of its vocational centre to enable them to be self-reliant on release from jail, adding that its Aftercare Unit usually monitors the ex-convicts.
He, however, solicited the support of the state and local governments in the provision of working tools, saying the command alone could not bear the burden.
Anjorin also urged Nigerians to refrain from perceiving prisons as centres for punishment instead of institutions for rehabilitating, reforming and reintegrating inmates.
He further advised the judiciary to expedite action on those awaiting trial in order to reduce congestion in prisons. (NAN)