The "Our Water, Our Right Coalition" has commended the 23 members of the Congressional Black Caucus (CBC) and Congressional Progressive Caucus (CPC) who wrote a solidarity letter siding with Lagos citizens in their struggle against water privatisation.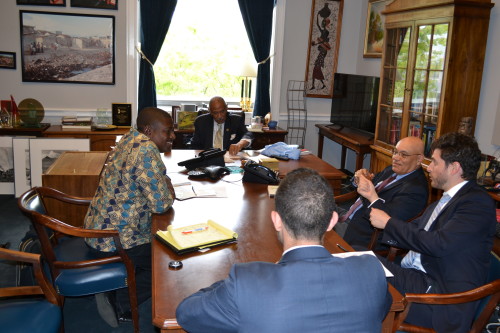 Reacting to a solidarity letter from some members of the CBC and CPC which made direct connections between the struggle of the people of Lagos and people in U.S cities like Flint, Detroit, Michigan, Pittsburg and Pennsylvania, the "Our Water, Our Right Coalition" said the caucuses have again shown their commitment to pro-people causes through the letter.
A similar letter of support from half of the CBC members in 2015 underscored the disproportionately harmful effect water privatisation schemes, including public-private partnerships, have on people of colour around the world.
The renewed support from the CBC and CPC members comes just one week after a delegation of Nigerian legislators led by Senate President, Dr. Bukola Saraki, met with members of the CBC.
The Our Water Our Right Coalition have alerted that the new privatisation plans could involve Veolia which has reportedly been implicated in the Flint and Pittsburgh water crisis. Other corporations that have been tipped are Metito and Abengoa – all said to have track records of human rights abuses.
In May 11, World Bank Executive Directors visited Lagos and met with Lagos governor, Akinwunmi Ambode, who called for the bank's support on water projects. Later same month, evidence emerged that, despite years of opposition from people, unions and environmental groups, the Lagos government was moving ahead with at least five water privatisation projects that could privatise nearly 60 percent of Lagos' water system. Some of the projects are slated to advance as early as this month.
The CBC and CPC letter of solidarity draws from three U.S. examples, Detroit, Flint and Pittsburgh where the prioritisation of system finances over access has led to major issues such as raised rates, shut off water access for tens of thousands, dangerous lead crises and even drew the concern of the United Nations Special Rapporteur on the human right to water.
The letter reads in part: "While we cannot all be experts on the distinct water access challenges facing each of the world's cities, we share your concerns that a move towards privatisation of the water system in Lagos, including through public-private partnerships, could leave the city vulnerable to the negative impacts historically associated with various forms of water privatisation, including rate hikes, unaffordable service, inequitable access, worker layoffs, service interruptions, and failures to adequately invest in infrastructure. Privatisation also introduces significant governance challenges that can erode democratic control and oversight, including the government's ability to regulate in the public interest."
In a statement issued in Lagos, ERA/FoEN Deputy Executive Director, Akinbode Oluwafemi, said: "Privatisation is not the answer for Lagos just like it is not the answer for Pittsburgh and cities across the U.S. We call on the Lagos government to end its anti-democratic pursuit of privatisation and invest in public solutions."
Oluwafemi thanked leaders in the U.S. for their continued support, adding: "We must band together to oppose this corporate grab of our water, from Lagos State to Pennsylvania."
Expressing support for the Lagos campaign, Shayda Naficy, Senior Programme Director at Corporate Accountability, said: "Around the globe, the human right to water is under threat and people of colour, low income communities, and people in the Global South bear the brunt and are having to defend their rights in the face of disproportionate impacts. Whether it's at the World Bank or Michigan Legislature, this fundamental right must be upheld. The best way to do that is to keep water systems democratically accountable and in public hands."
The letter is led by Representative Karen Bass (Democrat-California), ranking member of the Africa subcommittee, and Representative Keith Ellison (Democrat-Minnesota). It is signed by CBC members and CPC members, including Reps. Ro Khanna (Democrat-California), Eleanor Holmes Norton (Democrat-D.C.), Frederica Wilson (Democrat-Florida), William Lacy Clay (Democrat-MO), Mark Pocan (Democrat-Wisconsin), Hakeem Jeffries (Democrat-New York), Pramila Jayapal (Democrat-Washington), Brenda Lawrence (Democrat-Michigan), Sheila Jackson Lee (Democrat-Texas), Bennie Thompson (Democrat-Mississippi), Donald Payne (Democrat-New Jersey), Stacey Plaskett (Democrat-Virgin Islands), Hank Johnson (Democrat-Georgia), Gwen Moore (Democrat-Wisconsin), José Serrano (Democrat-New York), Barbara Lee (Democrat-California), Michael Capuano (Democrat-Massachusetts), Emanuel Cleaver (Democrat-Missouri), Luis Gutierrez (Democrat-Illinois), and Raul Grijalva (Democrat-Arizona).