Over five thousand youths in eight West Africa countries have called on governments, as well as relevant private sector players to be more proactive and facilitate the establishment of sound institutional frameworks to help empower citizens to reverse the impact of climate change on sources of livelihoods and sustainable growth across the region.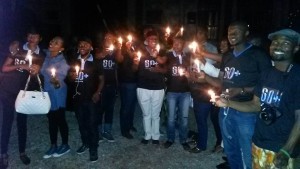 The youths, who constitute members of groups from Nigeria, Senegal, Nigér, Ivory Coast, Bénin, Togo, Ghana and Gambia, made this call during the 2016 Earth Hour celebration, a global event dedicated to raise awareness on the devastating impact of unpredicted changes in weather pattern on agriculture, water and energy sources, as well as the role of citizens in ensuring environmental conservation.
2016 marks the 10th lights-out event since Earth Hour's debut in Sydney, Australia in 2007. In the past nine years, the World Wildlife Fund (WWF) and Earth Hour teams around the world have harnessed the power of the movement to raise support and funds for access to renewable energy, protection of wildlife and their habitats, building sustainable livelihoods and driving climate-friendly legislation and policy.
Hamzat Lawal, the Chief Executive Officer of Connected Development (CODE), which promoted the programme in the region, said the event provides opportunity not only to discuss the negative, but also the abundant opportunities and positive aspects of climate change as well as how to live sustainably to save the environment from destruction.
"For us at Connected Development, we felt we should support groups like these across the West Africa region not to only depend on the government to take action," Lawal said. "But we want people to take individual action, because from individual action we are going to have collective action where we are able to create jobs and sustain the environment."
With the theme of this year's celebration tagged: "Change Climate Change," the group in Nigeria as part of its commitment extended its voice to support a petition asking the Federal Government to stop the Cross River State Super Highway project, a massive road construction exercise environmental advocates said would undermine protection of the largest forest cover in the country.
Participants from Lagos, Abuja, Cross River, Taraba and Benue states mobilised and carried out a candle light procession, cultural display, comedy as well as musical shows during the celebration to raise awareness and increase public knowledge on how to create a low carbon economy.
"In 2016, Earth Hour will continue to compliment grassroots efforts including driving a petition to save the Ekuri Forest and biodiversity in the Sahel of Africa, as well as help devise a comprehensive solution to the persistent waste management crisis by working with governments, businesses and civil society groups simultaneously," said Oludotun Babayemi, West Africa Regional Director of Earth Hour, and the Monitoring & Evaluation expert to CODE.
Participants who spoke on the significance and involvement of young people in climate matters described the occasion as a trend setter that brings awareness to communities and various stakeholders with a message that emphasised the fact that it takes little effort to contribute towards sustainable development.
"This is a wakeup call for all actors to join forces to make a significant impact towards reversing climate change and to improve the livelihoods of the poor in our communities," said Emmanuel Njoku, environmental rights campaigner and social activist.
By Etta Michael Bisong, Abuja