Eighteen bio-fortified varieties comprising six vitamin A cassava, eight vitamin A maize, two orange sweet potato and two iron and zinc sorghum, which are  bred conventionally, have  been released officially in Nigeria.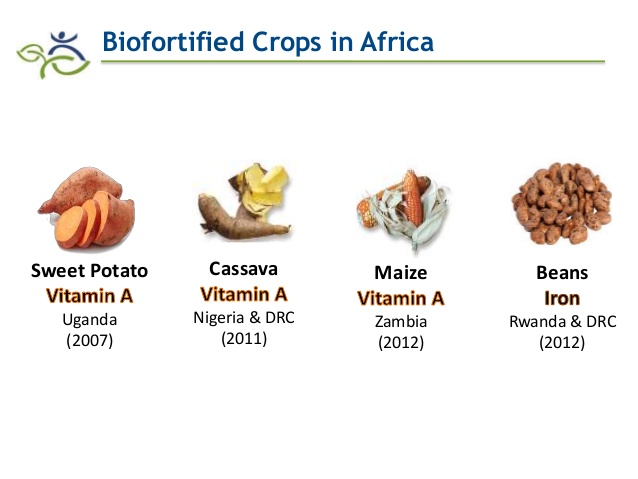 Dr Paul Ilona, the Country Manager of Harvestplus, an international agricultural organisation, made this known in an interview with the News Agency of Nigeria (NAN)  on Sunday, November 5, 2017 in Ibadan, Oyo State.
"Over two million farmers are estimated to be growing them now," he said.
According to him, nutritious foods are of immense importance for good health.
"We must connect the dots among nutritious foods, health, income, women empowerment and Gross Domestic Product (GDP) growth," he said.
He told NAN that the aim of the organisation was to tackle hidden hunger on a global scale by ensuring vitamins and minerals in food crops.
The country manager said that Harvestplus was working with partners to build sustainable food systems and bridge the gap between agriculture and nutrition.
He also said that an estimated 3,000 participants and 10,000 attendees would converge on the Michael Okpara Square, Enugu, for the 2017 Nutritious Food Fair (NFF) aimed at  improving the livelihood of Nigerians.
The country representative said that the fair would take place from Nov. 28 to 30.
Ilona said that mega livelihood and income generating opportunities would be facilitated for participants at the fair.
He hoped that the fair would result in success for new generation of micro, small and medium-scale businesses and investors in nutritious food.
"The event will be hosted by Harvestplus in partnership with International Institute of Tropical Agriculture (IITA), National Root Crop Research Institute (NRCRI), etc; we expect at least 10, 000 attendees across the world.
"At the event funded by Bill and Melinda Gates Foundation, USAID and DFID, the model of the largest nutritious cassava dish will be unveiled," he said.
NAN reports that IlonaHarvestplus and its partners developed new varieties of staple food crops with higher amounts of vitamin A, iron or zinc to consumers in an effort to tackle malnutrition.
Harvestplus improves nutrition and public health by developing and promoting bio-fortified food crops that are rich in vitamins and minerals.
It provides global leadership on bio-fortification evidence and technology.
The staple crops are naturally bio-fortified and not genetically modified.
By Chidinma Ewunonu-Aluko