No fewer than 150,000 persons have been displaced by flood in Bayelsa State, the National Emergency Management Agency (NEMA) disclosed on Sunday, September 30, 2018.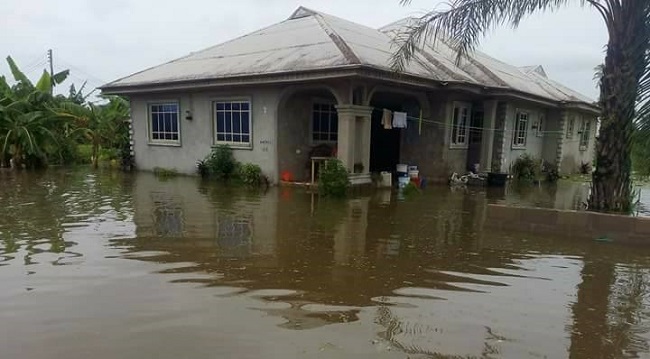 Mr Yakubu Suleiman, Co-ordinator, Emergency Operation Centre E, Rivers/Bayelsa Territory of NEMA disclosed this in an interview with the News Agency of Nigeria (NAN) in Yenagoa, the state capital.
Suleiman said that several homes, farmlands, schools and churches were submerged in the affected communities across eight Local Government Areas (LGAs) of the state.
He said the agency was taking inventory of the affected persons to ensure that they were free from diseases.
Suleiman said that the displaced persons have been evacuated to the Internal Displaced Persons (IDPs) camp in Biseni, while some tents have been mounted at the Egbebiri Community, all in Sagbama LGA.
"We have carried out assessment on the affected communities, and we discover that no fewer than 150, 000 persons have been displaced and the number keep growing because the water is rising daily.
"Several communities have been submerged; markets, schools, hospitals and churches are already under the water.
"We have cleared some portions of lands for the IDPs at Biseni and we have mounted some tents at Egbebiri Community, all in Sagbama LGA.
"We have over 110 tents to be mounted in different locations; the emergency monitoring team is working round the clock to ensure that every affected home is assisted.
"The medical teams are on ground from the Federal and State Ministries of Health, to be assisted by members of the Red Cross Society, to avoid spread of diseases because of polluted water.
"On portable water for the affected persons, we have brought water treated plants to be installed in the camp, so, that the people will have access to portable water," he said.
The mostly affected communities are in Adagbabiri, Anibeze, Biseni, and Trofani in Sagbama LGA.
By Christian Ogbonna