The Mile 12 Market is reputed to be the largest perishable food market in West Africa. The market is characterised by a beehive of activities at the various food section.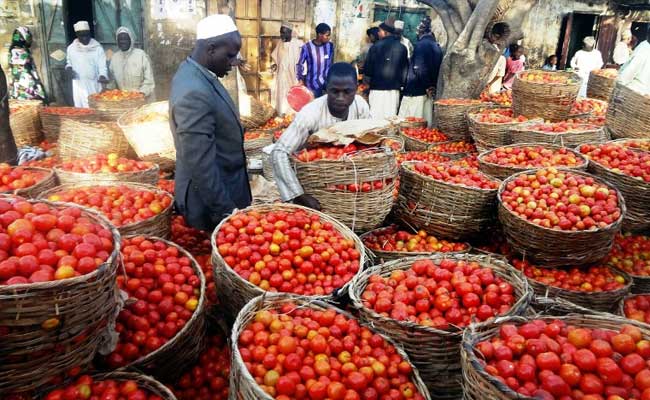 However, in May, the usual hustling and bustling that typifies the perishable food market was missing. Most of the traders were seen hanging around with few produce displayed for sale.
Alhaji Sheu Musa, a seller of tomatoes at the market was haranguing a customer over her "ridiculous" pricing of the produce.
"It is not my fault that tomatoes are expensive in the market. In the last few days, I hardly made profit from the sale of the produce because pests have destroyed tomato farms and made tomato scare and expensive.
"I am tired. I have spent all day explaining why tomato prices are so high to numerous customers," he exclaimed.
Tomato prices across Nigeria have skyrocketed since April, causing consternation across the country. Most families now find it difficult to prepare stew or cook other delicacies with fresh tomatoes.
The rising cost makes a huge difference to family budgets and to the farmers who rely on steady sales for their income.
Hotels and restaurants, in particular, face a nightmare as the crisis has also shot up the price of tomato paste.
In the first few months of the year, a basket of tomato was sold as low as N1,500 but, during the scarcity, the price of a basket spiked to as high as N40,000.
However, the ingenuity of Nigerians is commendable as many homemakers that are unable to afford the fresh tomato switched to the use of blended carrots, dried tomatoes and palm nut juice for sauce.
According to an agriculturist, the scarcity of tomatoes was caused by the pest "Tuta Absoluta", locally named "Tomato Ebola", that destroyed virtually all the tomato farms in the northern part of the country.
Tuta Absoluta is the specie of moth in the scientific family of Gelechiidae known by the common names tomato leafminer and South American tomato moth.
The insect originated from South America around 1912 and has spread to other parts of the world. Reports reveals that the insect came to Africa through the Republic of Niger.
Alhaji Haruna Mohammed, Chairman, Mile 12 Market Perishable Foods Association, notes that the pest invasion of tomato farms is due to the prolonged dry season.
He said, "The insects come out and are very active during extreme sunshine. The insects always attack in dry season and harmattan periods.
"This is not the first time the insects are disturbing tomato farms but this year's is severe. The insects are not active during rainy season.
"Tomato buyers and sellers are not happy with this situation. It has affected us seriously."
According to him, traders are buying tomatoes from Cameroon and Ghana to make up until they start harvesting the new ones planted to replace those ravaged by insects.
"It costs between N500,000 and N600,000 to bring tomatoes to Lagos from Cameroon and Ghana.
"This is the reason tomatoes are scarce and costly when seen in the market. It is a nightmare and tomato traders are praying for good harvest so that the nightmare will be over."
According to a climatologist, Dr Ibidun Adelekan, heat enhances the growth of some pests, a situation she says threatens the country's quest for food sufficiency and industrialisation.
Tomato scarcity became a major concern as the Dangote Tomato Processing plant in Kano State, that started operation in March suspended production in May due to unavailability of fresh tomatoes which constitutes its raw material.
Governor Nasiru El-Rufai of Kaduna State, on May 23, declared a state of emergency in the tomato sector of the state, saying that within a month, 12 local government areas of the state that produce tomatoes have lost 80 per cent of its tomatoes harvest.
In three local government areas, about 200 farmers lost N1 billion worth of tomatoes.
The 450,000 metric tons per annum tomato processing plant of Erisco Foods Ltd in Lagos was also affected by the fresh tomato scarcity leading the manufacturer to resort to using dried tomatoes for production of its tomato paste.
Chief Eric Umeofia, Chief Executive Officer, Erisco Foods said, "Heat wave caused by effects of climate change has destroyed my company's tomato farms in the North.
"Reduced access to fresh tomatoes for production of tomato paste has affected our production capacity, as we are presently producing below capacity."
Dr Anthony Anuforom, Director-General, Nigerian Meteorological Agency (NiMet), says extreme weather conditions such as drought, flood and heat waves constitutes serious threat to global food security.
He asserts that the threat is as a result of the high vulnerability of agricultural produce to weather variability.
The NiMet boss said that the impact of extreme weather on food security in Nigeria could be managed through climate change adaptation policies and appropriate economic framework.
He notes that weather forecast and climate predictions, such as NiMet's Seasonal Rainfall Prediction (SRP), were useful tools for reducing the impact of extreme weather condition.
Experts said that a combination of informative, adaptive, behavioural and innovative technological strategies would be required to transform the nation's agricultural sector for the purpose of ensuring food security.
They emphasised that the government should boost mechanised farming, strengthen the nation's Agricultural Research Institutes with adequate funding to improve their capacity to produce crop varieties that matures quickly and are heat, drought and flood resistant.
The experts added that government should also improve the ratio of agricultural extension workers to farmers in the country to enhance food production.
By Oluwafunke Ishola